How do I ever thank you ? You truly were sent from heaven - all of my crying was down to how beautiful your voices were. There wasn't a dry eye in the house and absolutely everyone commented how amazing you were. Truly, thank you so much for making our day as perfect as it could have been. For all your hours of efforts learning my music... for your hymns, your alleluia and your outstanding performance as a whole. (Sineal Cotsworth - for singing at her wedding, June 2018).
Thank you so much for everything you did' it was simply amazing and outstanding. You were the stars of the show; you had everyone in tears !!!!!! Almost everyone has contacted us said it was the most stunning service and that was thanks to you guys for making it so so special. (Ciaran O'Quigley - for singing at his daughter's wedding, June 2018)
May I pass on my personal and membership thanks for an extraordinary evening of entertainment by you and your wonderful friends and companions. Together you made the end of a long day, happy, exciting and certainly uplifting (G. Waters, Medway Rotary, Feb 2017)
Having just arrived home after our meeting tonight I wanted to thank you, the ladies of Harmony and your pianist for such a wonderful evening of music and song. I'm still on a high and reflecting the great sound your choir gave us. You obviously all enjoy what you do and your enthusiasm reverberates across the audience. (P Underwood,Medway Rotary, Feb 2017)
Achievements and Competitions
Nov 2016 : Winners and an 'Honours' category achieved with 90 points at the Maidstone Festival
Apr 2016,2015 and 2014 : Medway Festival Championship Cup Winners
Oct 2013 : Charlie Landsborough Regional Winners (see press cutting below)
Dec 2012 : Brewers Fayre Carol Factor Winners (see press release to the right)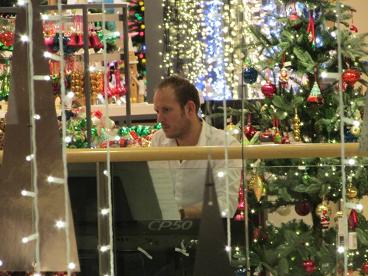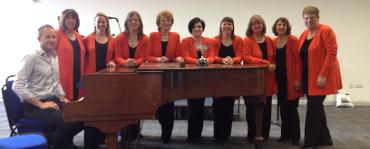 Brewers Fayre National Competition Winners 2012
Press release :
Harmony Kent Win Nationwide Carol Competition
Kentish choir crowned winners of the Brewers Fayre carol competition
A Kentish vocal harmony group have been unveiled as the winners of a nationwide search to become the official Brewers Fayre Christmas Carol Stars of 2012. With talent from all across the county, including Medway, the vocal group beat hundred of entrants from all over the UK to take the title.
Following in the footsteps of Michael Bublé, Katherine Jenkins and Rod Stewart, the 10 piece group have recorded their own Christmas tracks that will be played in selected Brewers Fayre restaurants throughout the Christmas period
Lynne Bunce from Harmony Kent commented; "We were absolutely ecstatic when we learnt we had won the Brewers Fayre Christmas Carol Stars competition. We absolutely love getting together to sing, but to be able to record our very own tracks in a proper studio, and know they will be played in restaurants during the festive period, is extremely exciting."
Here are some of our certificates and press releases. Click on each picture for a closer look :